Aligning Your Business With A Great Cause Has Never Been More Fun!
No teams to put together, No 5Ks to run, just a fun evening out with friends, clients or co -workers enjoying stand up comedy by some of the best performers in the nation! When you align your business with Comics Crushing Cancer you will establish brand recognition with a very desirable and loyal audience. Your donation as a sponsor  stretches far and wide to help women withe personal costs associated with having breast cancer. Because we are helping with the little costs, that can really add up, your donation goes longer but makes a big impact! Thank you for your time and consideration to support Comics Crushing Cancer!
Choose A Sponsorship Opportunity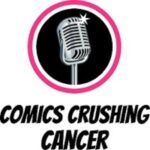 Comics Crushing Cancer 2023 Sponsorships
Now You Can Support Comics Crushing Cancer Through our Podcast! Join our Patreon and Make a Difference!